Secure Weather Proof Organized Storage
Get more out of your truck bed, cargo van, or service body without sacrificing payload with DECKED. If you need secure, weatherproof storage to help you get organized, look no further. Perfect for a weekend warrior, use D-BOX accessories to quickly swap our your work tools for your fishing, hunting and camping gear and hit the road. Load up to 2,000lbs on top with no worries. Each drawer can hold 200lbs worth of tools and gear, or fill them up with ice and have the ultimate tailgate setup. Work or play, a DECKED drawer system offers versatility unmatched by any topper or tonneau cover. With fast install, Manning will get your new drawer system installed the same day so you can hit the job site or back country. Available for most popular mid or full sized pickups, Manning has the DECKED system for you.
New DECKED Toolbox
The pickup crossbox hasn't had an update like this in decades – Until Now. Watertight, dent, and corrosion proof, this box doesn't sacrafice strength or durability for it's good looks. Made from injection molded, high-impact polymer resin, no hammer or crowbar can damage or access the DECKED toolbox. While most toolboxes turn into black holes where 10mm sockets go to die, the DECKED box is compatible with the same D-BOXes that keep your drawer system in order. Best of all is the available 6063 T6 aluminum step ladder that allows easy access in even the biggest/tallest trucks while neatly stowing away inside without taking up valuable space. Turn your 8ft pickup bed into the ultimate cargo vault by combining a DECKED toolbox together with a drawer system and say goodbye to stolen/lost tools and clutter.
Cargo Vans and Service Bodies
We find people are always looking for more storage and organization out of their work vehicles. Service body cargo areas and cargo van interiors can be especially tough to keep clean and neat. DECKED offers custom engineered solutions for your truck to save you time on the job site. Manning has the solution to your headaches with an installed drawer system. Compatible with other shelving and storage solutions, create the ultimate mobile job site by pairing your DECKED drawer with Cargo Glide or Weather Guard accessories.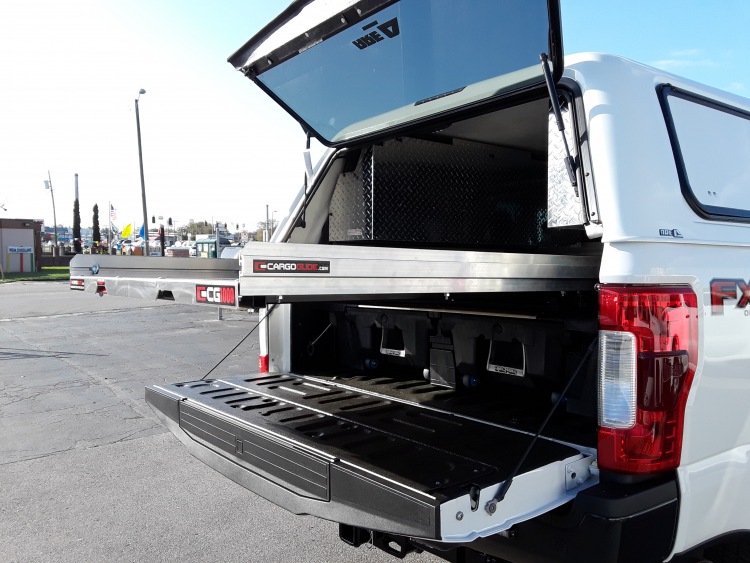 Get DECKED today!
Manning has the right system for you at the right price, installed to meet your needs. Contact our truck equipment experts to get yours today. Call 502-426-5210 or email sales@truckequip.com to get your new DECKED drawer or toolbox ordered and installed. If It's Truck Equipment, Manning Has It!